Changes to GCSEs
There are three GCSE exam boards in England: AQA, Edexcel and OCR. The entire GCSE system has gone through a complete overhaul over the last few years. The changes were first introduced for Maths and English, with GCSEs under the new 9-1 system taking place in the summer of 2017. For the GCSE Science subjects, the first 9-1 exams took place this year, in May and June 2018.
Change to the grade system
The most obvious change is to the grade system. The old A*-G scale has been replaced by a new '9-1' scale. A grade 9 is the highest available (and is equivalent to a high A*). The new "good pass" is considered now to be a grade 5.
The graphic below, published by exam regulator Ofqual, compares the old and the new grade scales.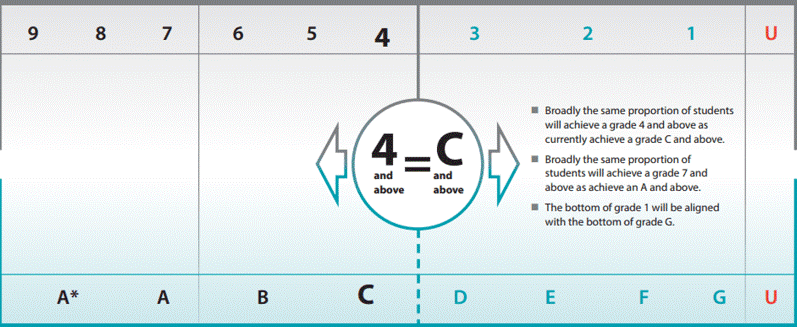 Changes to the exam specification
The specification (what many parents would call the 'syllabus') lists all the topics and learning objectives that a student must cover during their entire GCSE course. The new 9-1 specification has been updated substantially and includes more content and more challenging subject content than the old specification. Simply put, the GCSEs are more demanding than before.
Change from modular to linear
Previously, some GCSEs were modular. Students could take some of their GCSE exams and/or 'coursework units' well before the end of the course. Under the new system, the GCSEs are completely linear.
The merits of linear system vs a modular system are debatable and there are pros and cons to each approach. But the fact is that a linear system has now been adopted and that means that a student's performance during the final GCSE exams this summer is critical to the grade they achieve.